Texas Food & Fun Festivals in June
Drive around and eat! There's one or more deluxe Quality RV Resorts near each of these festivals. Taste Texas' favorite foods or try something new, listen to rockin' live music, dance the two-step, watch the parades, stuff your face at the shrimp-eating contest, car shows, rodeos, art shows, mariachis, show off your sexy legs, and have fun. Find a Quality RV Resort and eat your way through Texas in June.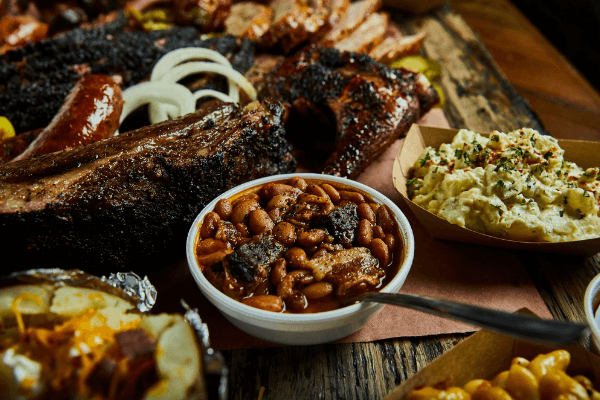 48thAnnual Chisholm Trail Roundup BBQ & Chili Cook-Off
June 10 – 12, 2021, Lockhart, Texas
Treat the family to a little day trip. Lockhart is just 70 miles from our San Antonio resorts.
Festivities begin with the 'BBQ Capital of Texas' Championship & Chili Cook-Off. Grab your fork for the Cowboy Breakfast around a Chuck Wagon on the Courthouse square. The fun really skyrockets at Lockhart City Park where there is a Carnival, full event Rodeo, Queen's Court Coronation, Awesome Auction, food & craft vendors, and LIVE MUSIC on two stages.
You may purchase 3-Day Presale Wristbands for Thursday, Friday, and Saturday June 10th – 12th for $15 from the Chamber office at 702 S. Commerce St. Lockhart, TX. If you are from out of town, and would like to purchase wristbands, please call the office at (512) 398-2818 so we can get them to you. The office is open from 8:00am – 5:00pm Monday – Friday.
73rd Annual Shrimporee
June 11 – 13, Aransas Pass, Texas
Stay at our Victoria resort and drive 76 short miles to the Shrimporee.
Fresh shrimp from the Gulf of Mexico! Carnival, parade on June 12 at 10:00am, three full days of live music on TWO big stages, shrimp eating contest, men's & women's sexy legs contest, comedy hypnotist, mariachis, magic show, exotic animals, 130 art vendors, plus FREE Shuttle Park & Ride.
Park FREE at…
Aransas Pass Chamber of Commerce, 130 W. Goodnight Ave
Compton Hall, 704 W. Yoakum & Harrison
Palm Plaza, 1901 Wheeler Ave
Take the FREE shuttle to Shrimporee grounds at 200 E. Johnson Ave, Aransas Pass, Texas 78336.
Please call the Aransas Pass Chamber of Commerce at (361) 758-2750 with any questions regarding Shrimporee.
Texas Turkey Leg & BBQ Festival
Saturday, June 26, 2021, Houston, Texas
Staying in Houston or Brazoria? The Turkey Leg Festival in Houston is a perfect outing for you! Noon – 9:30pm in Houston.
Texas Turkey Leg & BBQ Festival is a fun-filled, family-friendly event, where food meets music. Bring your lawn chair and enjoy blues and zydeco, turkey legs, lots of food booths, and 'adult' beverages. Sorry, no pets.
On the grounds of First OutReach at 4603 West Orem, Houston TX 77045 which is within 5 miles of Southlake and Lakeview RV Resorts!
Plan for big foodie-fun in June. Choose your ideal Quality RV Resort destination and book now!