Welcome QRV Conroe to The Quality Resorts Family!
Quality RV Resorts is beyond excited to welcome Quality RV Conroe to our growing list of resort locations! Bordered by 22,000 acres of beautiful Lake Conroe, not only is Conroe one of the best places to live in Texas, but there are endless adventures that await, both in and outside of our newest RV Resort in Conroe.
Nestled next to the Sam Houston National Forest and W. Goodrich Jones State Forest, a stay in Conroe ensures plenty of native flora and fauna and much to explore. Whether you're planning a long or short-term visit, Conroe is the perfect destination.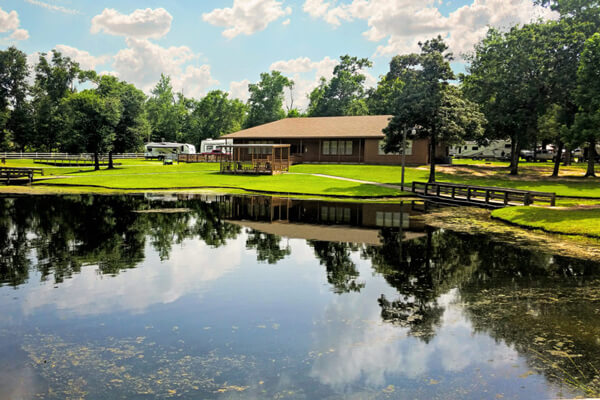 Experience the Quality RV Resorts Difference
Quality Resorts boast the best RV resort around, and the new Conroe addition is on track to please as many guests as our existing locations. Our Conroe community offers an amazing experience, a warm welcome, incredible amenities, and a staff that will go above and beyond to help guests with whatever they need.
When you visit our RV Resort in Conroe, you'll receive every comfort of home courtesy of our dedicated manager and on-site staff. Quality RV Resorts has set the bar high in Texas when it comes to our grounds and service quality.
You may be with us for one night or taking up residency for a while. Either way, we're thrilled to have you, and we know you'll be thinking about your next stay before you step foot off the grounds!
The Amenities Make Your Experience Unforgettable
The Quality RV Resort in Conroe remains dedicated to maintaining our high standard of customer service, and we are proud to assist our guests in every request that comes our way. We'll go the extra mile for you to ensure you're comfortable during every second you're on our private, gated Conroe property.
The Quality Resort criterion boasts immaculate facilities, with prompt attention when needed. Our sites are concrete and allow plenty of space and full hook-ups.
Bring Your Pets and Your Grilling Tools to Conroe
Our beautiful, peaceful Conroe property has trees sprinkled throughout, offering plenty of places to lounge in the shade and escape the heat of a Texas summer. Our grounds are pet-friendly, so you never have to leave your best friend at home.
Picnic and barbeque areas are a wonderful place to get to know your neighbors, and outdoor fire pits are perfect for curling up in your favorite camp chair and unwinding from your day. The Conroe property offers free WiFi for those times you've got to get back on the grid, allowing you to stay connected to work, family, and friends while you enjoy your time with us.
Hospitality You Expect
We know that you've come to expect pristine hospitality from Quality RV Resorts, and our Conroe location is right on par. From the clubhouse and dog walking trails to the swimming pool and horseshoe pits, we can't wait to show you the time of your life.
Call Quality RV Conroe today for more information!