What To Pack for Summer Swimming
Texas is a great summer destination for all the culture and outdoor fun. One of the key ways to enjoy it is to stay cool. When you head out in the RV for a Texas summer getaway, you can't go wrong with one of the many destinations Quality RV Resorts offers; the majority have a resort-style pool for fun, relaxation, and cooling off. As you pack for your trip, you may be thinking what to pack for swimming – keep these swimming essentials in mind.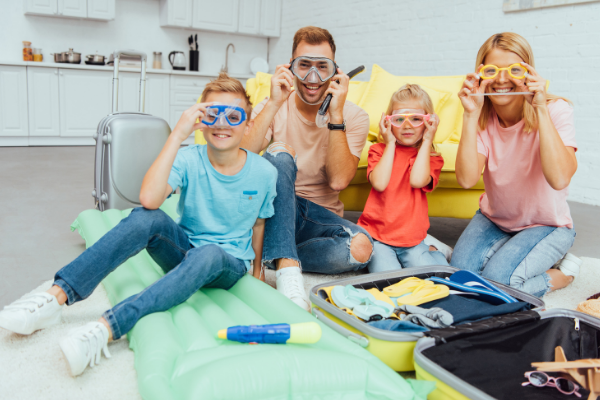 What to Pack For Swimming
In the Pool
Swimwear – Obviously, of course!
Goggles – Some people don't mind chlorinated water in their eyes, but others are more sensitive to it. Goggles also make underwater vision clearer, which especially helps when you're swimming laps.
Swimming Cap or Hair Ties – For people with long hair, these help keep hair from getting in the face when swimming for exercise or recreation.
Around the Pool
Towels, Robes, and Coverups – Make sure you can dry off after getting out and cover as much as you want to when up and moving around.
Hats and Sunglasses – Protect your head, face, and eyes from UV rays.
Water Bottle and Snacks – Stay hydrated and energized under the sun. Avoid glass bottles!
Flip Flops or Water Shoes – Surfaces can get hot or feel rough to bare feet. Keep your feet cool and protected.
Entertainment – Read or listen to a book or watch a show. If you're using audio, remember to be considerate when it comes to others around you.
Flotation Devices and Pool Toys – These can be both relaxing and fun, but always check to see if certain items aren't allowed.
It's not only essential to know what to pack for swimming but for after swimming as well.
Later
Fresh Change of Clothes – Have a clean change of clothes ready; doing laundry while wet and shivering or wrapped in a towel is no fun!
Toiletries – Chlorine can irritate skin or dry it out. Remember to pack moisturizers, shampoo, conditioner, etc. for your trip.
Comb or Brush – Get the tangles out if you're going somewhere after swimming so you don't find yourself with an embarrassing mess!
Now that you know what to pack for summer swimming, book your stay at the Quality RV Resort of your choice!