The Lone Star State boasts a wide variety of zoos to experience and enjoy. Some of the best Texas zoos are luckily located not far from Quality RV Resorts destinations in Houston, Victoria, Brazoria, and San Antonio.
Here is a guide to great animal exploration!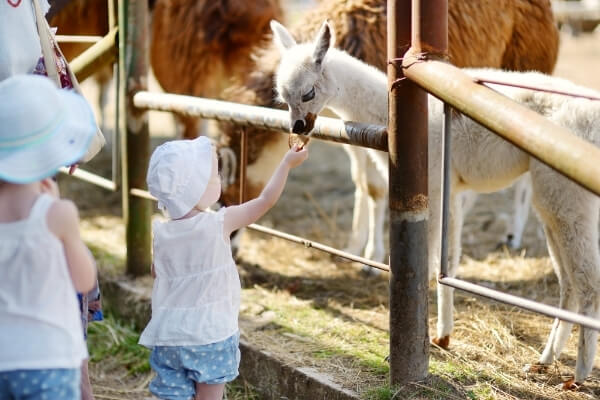 HOUSTON
1. Houston Zoo
The Houston Zoo is home to more than 6,000 animals which it protects and helps motivate people to learn more about them. It offers a range of tours to its guests and cultural visits that everyone can enjoy. It records more than two million visits each year – fascinating guests with the amazing variety of species in its ecosystems.
2. Houston Petting Zoo
This zoo creates a hands-on experience with various animals like kangaroo, fox, toucan, Lemur, and the Gila monster reptile. The zoo is renowned for bringing the pet experience to schools, birthdays, and festivals in Texas.
3. Houston Aquarium & Animal Adventure
This zoo brings to life both outdoor and indoor animal adventure. People get to interact with sloths, sharks, stingrays, and birds for fun, selfies, and social media content creation. It will be opening its doors in March for these events.
SAN ANTONIO
4. San Antonio Aquarium
This aquarium features diverse reptiles, fish, and exotic birds. A ticket to this aquarium helps you observe various species that you can't meet in wild adventures where waters are dull and the skies high.
5. San Antonio Zoo
The zoo accommodates family visits, dates, and events for interaction with nature. Meet and learn about lions, elks, deer, buffaloes, and other species in the 34 acres ecosystem. People can enjoy walks and delicious food courtesy of the zoo.
6. Natural Bridge Wildlife Ranch
One of Texas's most recognized family entertainment attractions features 450 acres of rolling hills, creek beds, and magnificent live oak trees. Witness the behavior of over 500 animals from more than 40 different exotic, native and endangered animal species from across the globe. Grab your Safari hat and go for the adventure of a lifetime ⁠— your very own African Safari, Texas Style!
7. Visit Sea Life
This newest aquarium is set to open in March with themed exhibits where you will be able to see over 3,000 species including sharks, rays, jellies, sea turtles and more!
VICTORIA
8. Texas Zoo
The Texas Zoo is home to over 100 species of animals, with some native to Texas while others can only be found in remote, exotic locations around the world. A large portion of The Texas Zoo's collection is comprised of rescue animals that could not be returned to the wild,
BRAZORIA COUNTY
9. Bayou Wildlife Zoo
Visitors ride trams to see more than 500 animals and 60 species, plus there's a petting zoo and pony rides!
10. Crocodile Encounter
One of Houston's best kept secrets offers you and your family a great way to experience nature up close and personal. Visit our zoo or experience one of our traveling educational animal shows and enter a world you never knew existed!
All Texas zoos are open and are great hubs for interaction with diverse species. Most have plenty of outdoor exhibit space to enjoy and all are following CDC Guidelines to help keep you and your family safe.