Best BBQ in the USA is in Texas
Best BBQ Places in Texas
According to a recent poll by YouGovAmerica, Texas dominates the list of United States' places with good barbecue, and it's not even close. 73% think Texas has the best BBQ, while the second-place winner, Tennessee, got only 37% of the vote for the same question.
Luckily for you, Quality RV Resorts has 16 destinations around texas, and all of them are near great BBQ restaurants. So choose your favorite location in Texas and come hungry.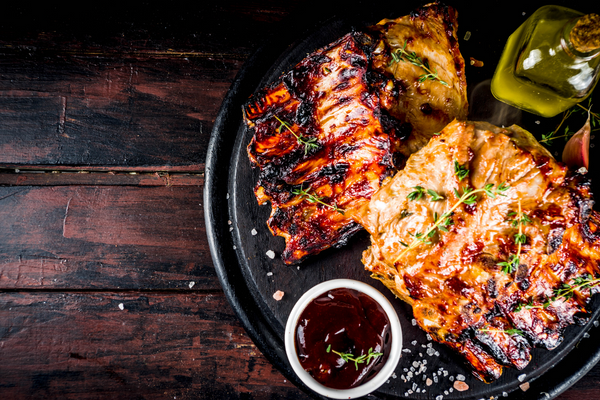 By the way, although we've tackled the QUESTION OF WHETHER THE PROPER TERM IS 'BARBECUE' OR 'BBQ,' smoked meat restaurants continue to evolve and maybe even get better. Here are a few near your favorite Quality RV Resort that are trouncing the competition.
Rudy's Real Texas Bar-B-Q in San Antonio
24152 Frontage Rd, San Antonio, TX 78257
With 881 5-star reviews on TripAdvisor, Rudy's is a great choice for the best BBQ dinner in San Antonio. Plus, Rudy has a unique way of spelling 'Barbecue.' Go there. You'll love it.
Satisfied diner Paula C says, "Every time we are in Leon Springs, it's a must stop at Rudy's! The best brisket, chicken, creamed corn, and potato salad all sold by the pound. Served on butcher paper, in a plastic crate, with sliced bread. Two types of BBQ sauce, grab a cold drink and it's heaven! You can eat inside family style or outside on picnic tables. There is even a country store where you can bring home some of that sauce!"
KB's BBQ in Victoria
134 Villafranca Road, Victoria, TX 77904
A whopping 153 people have given KB's a thumbs-up! You will too! In addition to brisket, chicken wings, and pulled pork, KB's has a few unique menu items… try smoked meatloaf, rib eye tacos, and jalapeño mashed potatoes. Live music outdoors and affordable too!
Jesse P says, "5 star food at a 2 star price. We can usually make 2 meals from one plate especially with their bbq sandwiches. KB's is a family owned and operated company that aims to please. Their coleslaw is the best I have ever had."
The Pit Room in Houston
1201 Richmond Avenue, Houston, TX 77006
No matter when the BBQ craving hits, The Pit Room can satisfy your hunger –they serve breakfast, lunch, and dinner 7 days a week! Enjoy the best BBQ indoors or on the patio. Beer & wine too! The Pit Room has 4633 positive reviews on Google!
Daniel O says, "If this isn't the undisputed GOAT of BBQ in Houston then I don't know what is. The Brisket is just simply glorious. The rub, the flavor, the fattiness, it's all perfect. The combination of flavors and textures are perfection. The beef rib is superb and the meat is so tender it literally fell off the bone when I picked it up. The sausage is delightful, the turkey and chicken are just as good. The sides and BBQ sauce are the cherry on top of a feast. I'll absolutely come back here for seconds."
Good News for Hungry Campers
Every Quality RV Resort destination in Texas offers comfort, convenience, deluxe amenities, and excellent guest services. Most offer easy-in/easy-out pull-thru campsites. Choose your ideal destination and treat yourself to the best BBQ dinner from a local restaurant. Or bring your meal back to your campsite and enjoy your dinner at your own picnic table under the stars.