No matter how you spell it, everybody likes barbecued food in Texas. Slow-cooked meats over a wood fire with various sorts of spice rubs are the basic ingredients, but what kind of meats? Which woods? What spices? All worthy topics best settled in the company of friends and family, accompanied by cold beer. Try a different 'cue in every city and town where you find a Quality RV Resort.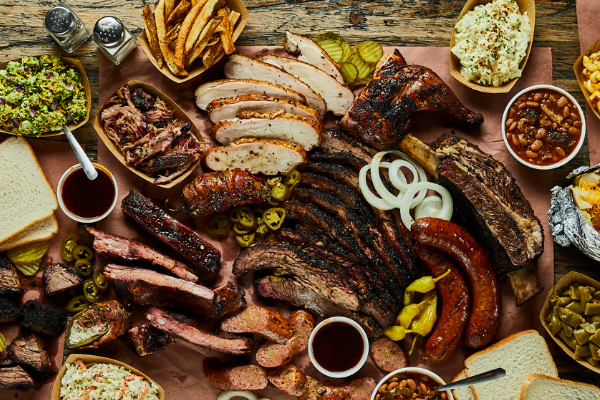 SMOKE SHACK
BBQ in San Antonio, Texas
Brisket, and more brisket. Have it chopped with tangy BBQ sauce, piled high on top of mac & cheese, on a plate or by the pound. The Smoke Shack is a San Antonio favorite, with a rating of 4.5 out of 359 reviews.
Delighted diner Lyntamblyn says, "Would eat here again and again. The brisket was delicious – my friends enjoyed their pulled pork and ribs! We also loved the mac & cheese, slaw, and green beans. The lemonade and tea bar was also great!"
Dine in or order out at the Smoke Shack, located at 3714 Broadway Street, San Antonio, TX 78209. Need more info? Call (210) 957-1430.
MUMPHORD'S PLACE
BBQ in Victoria, Texas
Family-owned, off the beaten path, and rated an incredible 4.7 out of 5 by TripAdvisor! Susan J can tell you all about it… "Eat here! The brisket was perfect and the green beans were THE BEST I have ever eaten. Seriously. You may be thinking, I don't like green beans-well, try these."
And everyone who works there is so friendly that you feel as if you have been invited into a gracious home, which you have, really, as this is a family run restaurant decorated with wonderful family photos and memorabilia."
Ready to try Mumphord's? Just hop in the car and go to 1202 East Juan Linn Street, Victoria, TX 77901. Need directions? Call them at (361) 485-1112.
PINKERTON'S BARBECUE
BBQ in Houston, Texas
With a Travelers' Choice Award from TripAdvisor and listed by Texas Monthly Magazine as one of the Top 50 Barbecue Joints in Texas, you can't go wrong at Pinkerton's. Their motto is 'Come And Eat It.'
According to Jczapata, "This is the best BBQ in all the Houston area. It represents the cultural historic background of Texas in all its essence and the experience of a backyard friendly feast."
Taste the essence of Texas for yourself at Pinkerton's, 1504 Airline Drive, Houston, TX 77009. Call for more info (713) 802-2000.
Choose a Quality RV Resort Location and Savor Real Texas BBQ in Every Destination!