4th of July at Home in the RV
Just in time for Independence Day, Governor Abbot says, "Texas is open…almost." Practically no outdoor fireworks displays in Texas just yet*, but lots of fun for everyone anyway.
Here's a great way to spend Independence Day…
Jump in the pool!
No pool where you are? Get squirt guns and re-enact Washington crossing the Delaware. Pro Tip: The 13 Colonies (that's us) win!
Wear red, white or blue t-shirts
Grill All-American favorites like hamburgers, hotdogs and corn-on-the cob
Make a big bowl of potato salad and place some little American flags in it
Treat the family to a red, white & blue dessert!
Red, White & Blue Dessert:
Ingredients
2 packages (8 ounces each) cream cheese, softened
1/2 cup sugar
1/2 teaspoon vanilla extract
1/2 teaspoon almond extract
2 cups heavy whipping cream, whipped
2 quarts strawberries, halved, dividedv
2 quarts blueberries, divided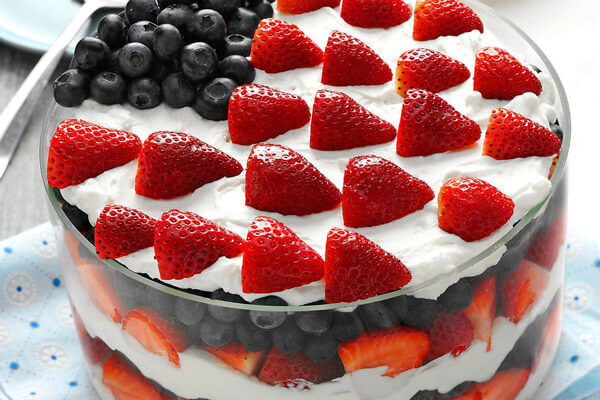 Directions
In a large bowl, beat cream cheese, sugar and extracts until fluffy. Fold in whipped cream. Place a third of the mixture in a 4-qt. bowl. Reserve 20 strawberry halves and 1/2 cup blueberries for garnish.
Layer half of the remaining strawberries and blueberries over cream mixture. Top with another third of the cream mixture and the remaining berries. Spread the remaining cream mixture on top. Use the reserved strawberries and blueberries to make a "flag" on top.
Nutrition Facts
1 cup: 168 calories, 10g fat (6g saturated fat), 32mg cholesterol, 44mg sodium, 20g carbohydrate (15g sugars, 3g fiber), 2g protein.
*OK, so you really want fireworks anyway. Hop in the car and go to Tomball.
Tomball Fireworks in the Sky
Just 27 miles from Houston, 90 miles from Brazoria, and 199 miles from San Antonio. Tomball, Texas celebrates July 4th with a giant fireworks display at FM 2920 and Highway 249. Be there! It's Social Distancing with a BANG! Fireworks start at 9:30pm. FREE!
Choose one of our fifteen locations in or near Houston, Brazoria or San Antonio. Reserve now at your favorite Quality RV Resort and plan to celebrate with a bang!