A River Runs Through It – Rivers in Texas
November is a wonderful time to enjoy the outdoors and rivers in Texas. Since Fall brings cooler temperatures and brightly colored foliage to the Lone Star State, many folks enjoy outdoor recreation on the riverbanks while admiring the reds and golds of Autumn leaves.
Choose your ideal get-away at any Quality RV Resort location. Then take the family and your dog and enjoy sight-seeing, fishing, and nature on the banks of our beautiful rivers in Texas.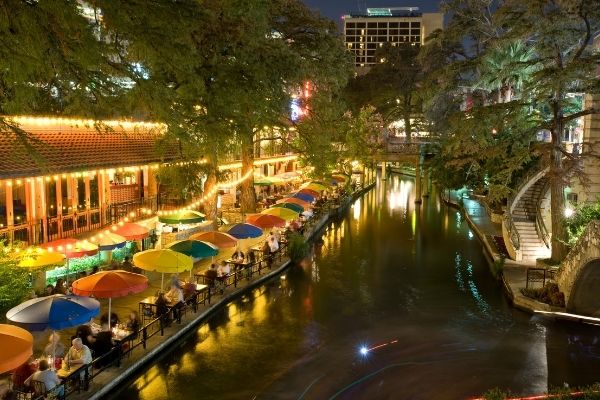 Rivers in Texas:
San Antonio Riverwalk
Sparkly Holiday Lighting November – January
849 E Commerce Street
San Antonio, TX 78205
The San Antonio River eventually flows into the Guadalupe River, but before it gets there, it entices visitors with a 15-mile walkway filled with shops, restaurants, art galleries, museums, and downtown San Antonio.
The River Walk, or Paseo del Rio, is a San Antonio treasure and the largest urban ecosystem in the nation. Tucked quietly below street level and only steps away from the Alamo, it provides a serene and pleasant way to get acquainted with the city. Enjoy a day of sight-seeing in this unique attraction. Leashed dogs are welcome. Admission to the Riverwalk is FREE.
Victoria Paddling Trail on the Guadalupe River
Riverside Park
532 McCright Drive
Victoria, TX 77901
Phone: (361) 485-3200
The Chisholm Trail, Riverside Park, Mission Espiritu Santo, and Fort Saint Louis sections are the four trails that make up the 25-mile Victoria Paddling Trail. The slow-moving Guadalupe in the Coastal Region is just right for a lazy day of fishing and leaf-peeping.
Riverside Park has more than 660 acres of scenic parkland including the river access. Anglers will be rewarded with catfish, bass, and sunfish. Paddlers and hikers will be rewarded with fabulous foliage. Take your camera!
Buffalo Bayou on the San Jacinto River in Houston
Buffalo Bayou Park
1800 Allen Pkwy & Memorial Drive
Houston, TX 77019
Just right for a relaxing stroll! Buffalo Bayou Park is a 2.3 mile long municipal park on the banks of the Buffalo Bayou near Downtown Houston.
Guests at Quality RV Resorts in the Houston and Brazoria areas can enjoy the changing colors of Fall foliage and the spectacular view of Houston's skyline along Buffalo Bayou's tree-lined Sabine Promenade. Hike and bike along the trails, take the children to the playground, and romp with your dog at the Johnny Steele Dog Park.
Thanks to unique and innovative lighting, Buffalo Bayou is a safe place to enjoy nature even after the sun goes down.
Plan your vacation at any Quality RV Resort and refresh your mind and spirit when you spend a day enjoying one of our beautiful rivers in Texas.
Choose Your Ideal Location and Book Now!