Beat the Heat with Easy AC Tips
Willis Carrier invented the modern air conditioner in 1902 and people in hot climates have been thanking him ever since. The knowledgeable folks at Quality Resorts have a couple of easy tips to beat the heat and keep the air cool and breezy inside your RV.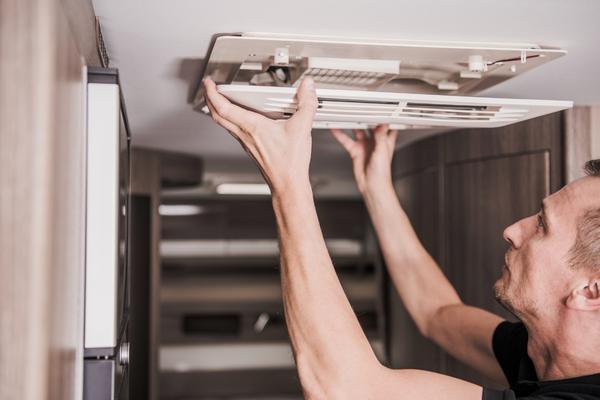 Clean the AC Filter
It's so easy your teenager could do it. Turn off the air conditioning unit and grab a screw driver. Then follow these easy steps to stay cool…
Look for the AC grates on the ceiling. Use the screwdriver to unscrew the grates and take them down.
Remove the AC filters from inside the grates.
Place the filters in the sink with a little bit of ordinary dish soap and water. Rinse until the water runs clear.
Squeeze out the excess water and spread the filters on your outdoor picnic table to dry.
While the filters are drying (it only takes a minute), wipe the grates too.
Put the filters back in the grates and screw the grates back into the ceiling. Turn the AC on again.
Yep, it's just that easy. Clean the AC filters once a month to beat the heat all summer long.
Another Common-Sense Idea to Beat the Heat
Why heat up your RV kitchen when you can cook outside? If you were ever a Girl Scout or a Boy Scout, you remember preparing tasty Hobo Dinners on a grill or a campfire.
Make one or more foil packets per person. Into each foil pack, place…
Seasoned hamburger patty
Small potato, cut into pieces
Chopped up onion, as much as you like
Maybe a small carrot
Salt & pepper to taste
Use heavy-duty foil to make the packets. Toss the veggies in a marinade or olive oil if you wish. If somebody is extra-hungry, place two burger patties side-by-side, not stacked. Wrap everything up and place the packets on the grill bars or near the hot coals.
Go back inside your cool RV, have a cold beer, and watch TV. Your Hobo Dinner should be done in about 45-60 minutes or whenever the veggies are tender.
Keep Cool by the Pool
Choose your favorite Quality RV destination in Texas and reserve now. Every park is pet-friendly, most have pools, and all of them have grills, picnic tables, and air-conditioned areas where you can beat the heat. Come see us!