Brazoria RV Parks Welcome More Than 1400 Workers
New construction for chemical and liquid natural gas production in Freeport and Quintana/Oyster Creek nearby Houston, means that more than 1400 workers need someplace to live. Are you one of them?
Three Brazoria RV Parks to Welcome You
Quality RV Resorts has the solution. Our three pet-friendly Brazoria RV Parks offer long-term stays, affordable rates, free WiFi, convenience, and comfort.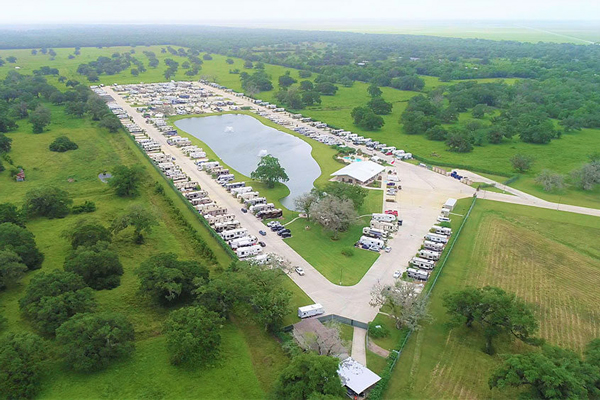 Brazoria RV Park
Just 20 minutes from Dow Chemical's MDI plant in Freeport, Brazoria RV Park offers full hook-ups on concrete pads, free WiFi, and free cable TV. Are you one of the more than 270 workers who needs a convenient, affordable, family-friendly place to live during the construction of the MDI plant? Check out our low rates and Book Now.
Bayou Oaks RV Park
Just 12 miles from Quintana where Freeport LNG will soon be building the Natural Gas Liquidation Train 4 with the services of 1200 workers, Bayou Oaks RV Park is your go-to address for a convenient commute. With full hook-ups, free WiFi, free cable TV, a modern laundromat, picnic tables, BBQ areas, and on-site fishing, you'll enjoy peace of mind with our private, gated community, large waterfront and lush, tree-shaded lots. We offer Good Sam discounts and long-term stays. Check out our low rates and Reserve Now.
Brazoria Lakes RV Resort
Specializing in extended stays, Brazoria Lakes RV Resort offers lush grounds, a sparkling swimming pool and Jacuzzi, computer room, modern laundry facilities, exercise equipment, free WiFi, and much more. Live a life of ease while working at the Freeport LNG plant in Oyster Creek – it's only 18 miles away. Plan ahead for 2023 when operations are slated to begin. Check out our low rates and Book Your Extended Stay Now.
Live the Good Life in Brazoria
There's plenty to do in Brazoria, like nearby access to San Bernard Wildlife Refuge, Wilderness Golf Course, and Surfside Beach on the Gulf of Mexico where watersports and fishing opportunities abound. You'll find shopping, healthcare, and restaurants in Angleton, Oyster Creek, and downtown Brazoria.
More Quality RV Destinations Nearby
Lots of workers will be looking to stay at Brazoria RV Parks while working on temporary assignments. Choose your ideal destination and book now. But if your chosen destination is all booked up, don't panic. Quality RV Resorts has 10 more pet-friendly, family-friendly RV Resorts and Parks in nearby Houston to serve you.