Grab 'a cool one' or catch up with folks over a beer & burger at Texas craft breweries. Texas' Quality RV Resorts destinations in Houston, San Antonio, Victoria and Brazoria offer many nearby choices to enrich your experience.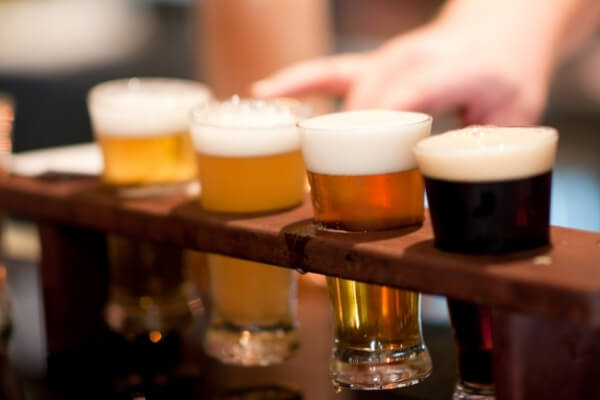 Houston
Houston breweries have home-crafted brews, good food and entertainment. A few of our favorites are:
St. Arnold Brewing Company – A family-friendly arts event. Besides its beer garden and view of downtown, strings of bright lights illuminate the outdoor hall and lawns, which have games for all ages. The cathedral-style indoor hall has frescoes by muralist Gonzo 247 and cars on display.
City Acres Brewing – A self-sustaining, simple pleasure. 60 planters grow the ingredients used in their home-crafted brews and food. The expansive yard of manicured small gardens, with picnic benches behind a farm-style building, give the look of being in a friend's backyard.
No Label Brewing – A combination historic factory/beach hangout; with older structures, picnic tables with umbrellas and a sandy kids' play area. 12 beers are on tap, from ales to chilies.
San Antonio
San Antonio breweries and distilleries have craft beers, whiskeys and spirits; good food and music. Here are some we love:
Ranger Creek Brewing and Distilling – Touristy; with artisan fairs, open houses, pizza nights and coffee ale-and-donut events. It has flavored beers, lagers and spirits. The Whiskey Program features malt scotch, white and rye; and Texas' Bourbon Barrel series.
Faust Brewing Co – A small gem; with taproom, distillery picnic tables and a 'biergarten' with live-music shows. It's known for ales and "small batch" brews (ie,'battlecrush galactica'), plus 2 wine taps. Faust's Hotel features its beers on menus.
Seersucker Distillery – Farm-based, colored blue and white to reflect the brand logo. It features 4 spirits; 2 personally invented and crafted by the owners: Cinco Vodka and Seersucker Southern- style gin (honoring their 1st customers, who wore seersucker shorts!). Also enjoy outdoor seating, yard games and a stylish tasting room.
Victoria
Victoria likewise has many brew establishments, with the Top 5 rated locally. Our top 2 places are:
Moonshine Drinkery – With a spacious bar, various cocktails and good food. Craft beer and 'signature' drinks are featured, and item samples. Play games to the backdrop of 90s rock/country music videos.
Hurricane Junction Bar and Grill – A club with a twist – BYOB; with mixers included in your meal price. They sell carryout beer, plus a variety of food from breakfast items to burgers. Enjoy games and jukebox music.
Brazoria
Brazoria County's franchises feature food, music, brews and kid-friendly areas. Here are the Top 2, rated locally:
Devil and the Deep Brewing – Has craft brews, and food variety that includes vegetarian options and wood-fired pizza; plus indoor & outdoor seating. There are arcade games, kids' areas and a party room.
Galveston Island Brewing – Likewise offers indoor and outdoor dining, a kids' area and vegetarian options. Their taproom showcases specialty beers from all over the world, with weekend tours and a souvenir shop.
Bottoms up!