Folks who camp in tiny teardrop trailers can pull into any RV park anywhere and fit comfortably into any camp site. But what about movie stars and their mobile mansions? Here's good news…from modest trailers to monster-sized motorhomes, every Quality RV Resort and RV Park can accommodate even the biggest Class A RV.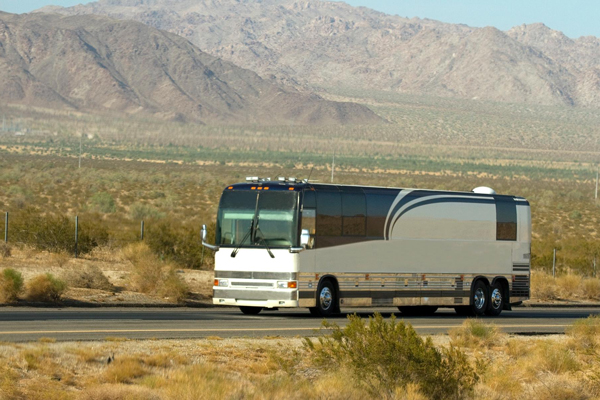 What is a Class A RV?
As big as Willie Nelson's tour bus, Class A RVs are 29-45 feet long and can be customized with horizontal slide-out sections and even second floors. Also known as motorhomes, these luxurious vehicles are favored by film and recording stars, both for traveling and as homes-away-from-home while on a movie set. Who else has an enormous Class A RV?
Dolly Parton
You'll have to travel all the way to Dollywood to see Dolly Parton's now-retired RV. When it was built in 1994, 'The Gypsy Wagon' was the most expensive RV ever at $750,000. Luxurious for its day, her RV had 2 showers, a wig closet, and an all pink bedroom. Dolly preferred life in her RV to staying in hotels. The Gypsy Wagon had more than 600,000 miles on it when it was put on display in 2009, showing visitors just how much traveling the iconic Queen of Country did.
Mariah Carey
Where did Mariah Carey stay in 2019 when she appeared at the Smart Financial Center Theater in Sugarland? Her two-story, 18-wheeler, Class A RV with its dancefloor and make-up room could have fit into any Quality RV Resort in Brazoria or Houston.
Will Smith
Houston is a popular setting for Hollywood movies, including the 1996 sci-fi blockbuster, Independence Day, where Will Smith saves the Earth from an alien invasion. Will calls his mansion-on-wheels 'The Heat' because at 53 feet long, it's so enormous it must be towed by a semi. The Heat is two stories tall, features space-age doors that open with the touch of a button, and at 1200 square feet is bigger than some private homes. When Will isn't using it himself, he will rent it to you for $9,000 per week. You'll still need to park it somewhere though. Luckily, every Quality RV Resort in Texas can do just that.
No matter what size RV you travel in, tiny teardrop trailers or Class A RVs, you'll find a warm welcome and five-star amenities at every pet-friendly Quality RV Resort. Choose your favorite destination and Book Now!