While RVs come in multiple shapes and sizes, one thing that most have in common is minimal cooking space and limited storage. As you try cooking in your RV at one of our Quality RV Resorts, consider some tips and recipes below.
Cooking in RVs… Ahhh… the Slow Cooker
Talking about an appliance made for an RV, a slow cooker is a great investment to save money and a fantastic way to cook some delicious meals. It's easy to place ingredients in the cooker, dial the heat to low, and let time do the rest!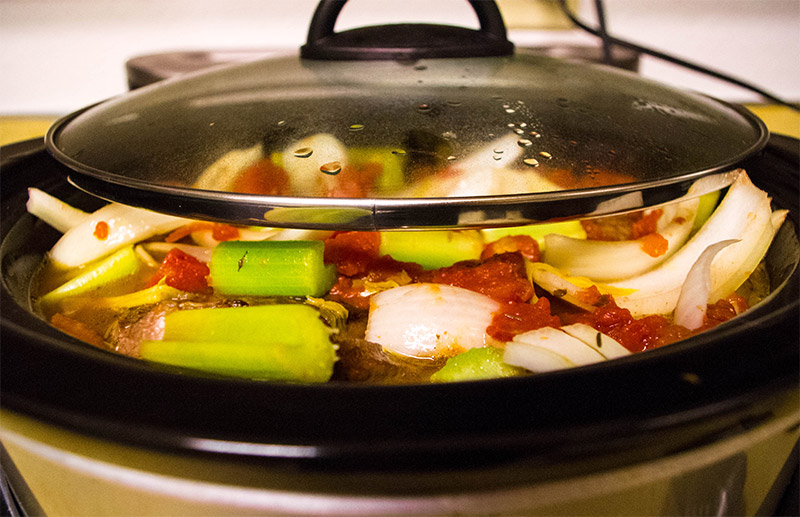 ---
Slow Cooker Recipes- Beef and Chicken Soup
Pot Roast Dinner
Add to pot:
1 cup of water
A 2 pound chuck roast cut into 2 inch chunks
Half of a white onion, skinned, washed and cut into 1 inch chunks
4 medium washed, unpeeled potatoes, quartered
4 large washed and peeled carrots cut into 2 inch sections
Set on low, cover, and cook for 8 hours! Click here for recipe.
Easy Slow Cooker Chicken Soup
Add to pot:
2 cups water
1 (10.75 ounce) can condensed cream of mushroom soup
4 skinless, boneless chicken breast halves
1 onion, chopped
1 cup chopped celery
1 cup chopped carrots
3 small baby bell peppers, chopped
1 ounce package of dry onion soup mix
Mix water, cream of mushroom soup, chicken, onion, celery, carrots, baby bell peppers, and onion soup and mix together in a slow cooker.
Cook on Low for 6 to 8 hours. Shred chicken using two forks and stir soup well. Click here for recipe.
---
About Quality RV Resorts
From sparkling pools to outdoor fire pits, free cable TV hook-ups, and free park-wide WiFi, Quality RV Resorts offers unparalleled amenities to enhance your lifestyle, ease your daily living, and ensure you enjoy your stay.
Each of our RV Resorts is distinctive and offers amenities unique to the individual location:
Houston RV Resorts: Northlake, Southlake, Westlake, Eastlake, Fallbrook, Highway 6, Lakeview, AllStar
Baytown: Mont Belvieu RV Resort
Brazoria: Brazoria Lakes RV Resort
San Antonio: Greenlake RV Resort
Brazoria: Brazoria RV Park
Angleton: Bayou Oaks RV Park
Cook slow cooker meals in your RV while staying at a Quality RV Resort!
Visit us at www.qualityrvresorts.com.