Easter Sunday's Slow-Cooker Recipe for Glazed Ham
Nothing says it's Easter better than a big plate of sliced glazed ham accompanied by delicious side dishes.
Even if you're traveling via RV throughout the country and you're on the road during the holiday – which falls on April 4 – making an Easter ham in your RV is easy and fun.
And chances are if you're a regular RV'er you already have a slow-cooker or crockpot ready to plug in and start the process. After all, Easter is not complete without ham, right? You'll find this recipe super delicious and simple to prepare – the crockpot or slow-cooker does it all.
Try whipping up some flaky cornbread, hearty potatoes, and seasonal veggies, as well as a fruity Jell-O mold for dessert. Your family will feel like they've hit the jackpot and will be asking for seconds – and maybe even thirds!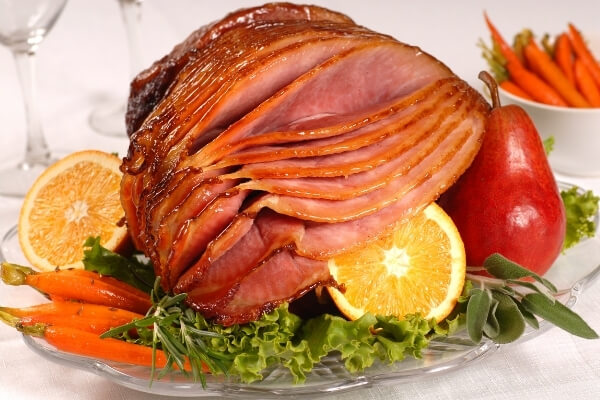 Great Recipe
When RV'ing this Easter try this terrific recipe for Crockpot Ham glazed with brown sugar that takes between 3-4 hours cooking time and very little prep. It will surely melt in your mouth and be a yummy main course that'll warm your stomach as well as your soul.
Another great thing about this recipe for Crockpot Glazed Ham with Brown Sugar is all the ingredients are easy to find and readily available in grocery stores everywhere.
Decorate Your RV
If you want to get festive why not decorate the RV with some fun and colorful Easter decorations and get your guests in the mood? Then go out for an Easter egg hunt in the Quality RV Resort's community areas.
After you work up an appetite return to your RV and enjoy this dish with your friends, family, and others on this special Easter Sunday while RVing or simply staying at Quality RV Resorts.
Crockpot Ham with Brown Sugar Glaze
This crockpot ham is a spiral cut ham topped with a 3-ingredient glaze, then slow-cooked to perfection. This is the BEST way to make your holiday ham, the slow cooker does all the work!
Ingredients
8 lb. spiral cut ham
1 cup brown sugar
1 cup pure maple syrup do not use artificially flavored pancake syrup
1 cup pineapple juice
Cooking spray
Fresh herbs for garnish
Instructions
1. Coat a large 7-8 quart crockpot with cooking spray.
2. Place the ham cut side down in the crockpot.
3. Rub the brown sugar all over the ham, then pour the maple syrup and pineapple juice over the top.
4. Cook for 3-4 hours on low heat, or until a thermometer registers 140 degrees F when inserted into the thickest part of the ham.
5. Transfer the ham to a serving platter.
6. Pour the liquid from the bottom of the crockpot into a medium-sized pan.
7. Place the pan over medium-high heat and bring the liquid to a simmer.
8. Cook for 6-8 minutes or until just thickened.
9. Pour the sauce over the ham. Decorate the serving platter with fresh herbs if desired, then serve.
Notes
If you prefer a thicker glaze, you can whisk together 1 tablespoon of corn starch with 2 tablespoons of cold water and add it to the saucepan when you simmer your liquid from the bottom of the crockpot.
Nutrition
Calories: 404kcal | Carbohydrates: 25g | Protein: 24g | Fat: 16g | Saturated Fat: 6g | Cholesterol: 70mg | Sodium: 557mg | Potassium: 489mg | Sugar: 23g | Vitamin C: 3mg | Calcium: 78mg | Iron: 1.3mg
Recipe from Dinner At The Zoo