Fishing is a most enjoyable way to spend the day, whether you are fishing at one of our RV Resorts' catch & release ponds or headed out to the lake to angle for your dinner. Legendary musician Taj Majal says, "Many fish bites if ya got good bait, so here's a little tip that I'd like to relate," listen to Taj Majal while you pack up your tackle box and head out to the lake.
Pro tip! Visitors to Texas State Parks can fish without a license. The exemption applies to anglers of all ages, residents and non-residents. To take advantage of the exemption, you must be within the boundary of a State Park, which usually means fishing from the bank or a pier.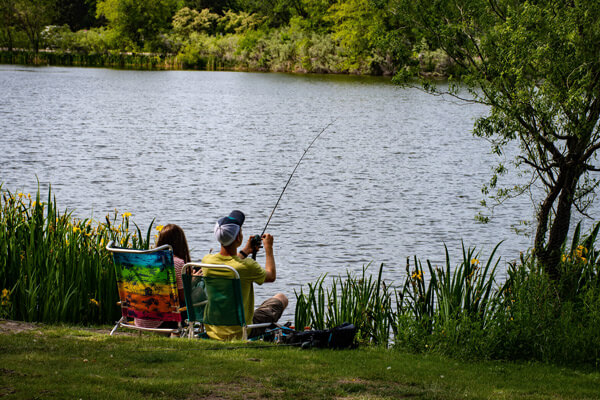 Houston – Brazoria Area Fishing
Lake Anahuac
Just 45 miles east of downtown Houston, Lake Anahuac is part of a wildlife refuge and offers access to both saltwater and freshwater fishing. The most popular freshwater species to be caught in Lake Anahuac are alligator gar, blue catfish, and largemouth bass.
Sheldon Lake
Hop in the car and drive 16 miles east of Houston to Sheldon Lake. Catch blue gill, crappie, and channel catfish. Three fishing piers and two small ponds for family-style catch & release.
Tom Bass Park
Plenty of room for social distancing at vast Tom Bass Park. Midway between Houston and Pearland, Tom Bass Park offers fishing, golf, volleyball, picnicking, and much more. You'll catch rainbow trout, sunfish, and catfish.
San Antonio Area Fishing
Millers Pond Park
An urban lake located within a 42-acre park. Ideal for bank fishing only, this small pond is stocked with catfish in the summer and trout in the winter. Millers Pond Park amenities include basketball courts, a walking trail and playgrounds.
Brackenridge Park
The trout-stocked San Antonio River runs through beautiful Brackenridge Park making for a great day of picnicking, hiking and fishing. Also largemouth bass, blue tilapia, and channel cats.
Victoria Fishing
Coleto Creek Reservoir
The Guadalupe River Basin, 15 miles west-southwest of Victoria is where you'll find the Coleto Creek Reservoir. Catch largemouth bass, white bass, crappie, and all kinds of catfish lurking among isolated beds of aquatic vegetation.
Saxet Lakes
Not quite 3 miles to the Southwest of Victoria, is Saxet Lakes. Fish the main lake and other small bodies of water for largemouth bass, freshwater drum, and blue catfish. Google Reviewers say 4.4 stars!
You Caught Him, Now Cook Him – Texas Fried Catfish
Take Taj Majal's advice and "Cook him till he's nice and brown." Here's how…
2 cups whole milk
1 teaspoon hot sauce
2 cups finely ground cornmeal
4 teaspoons kosher salt
2 teaspoons fresh ground pepper
2 teaspoons paprika
1 teaspoon cayenne
2 pounds catfish filets (about 4; can be cut into smaller filets, or tenders)
peanut oil for frying
Directions:
In a shallow bowl stir together milk and hot sauce.
In another shallow bowl combine cornmeal, salt, pepper, paprika, and cayenne.
Dip the fish in the milk, then dredge in the cornmeal mixture, coating thoroughly.
Let sit for a few minutes while you heat about 2 inches of oil to 350 degrees in a deep cast-iron pot (a thermometer is immensely helpful in maintaining the oil temperature; adjust your heat accordingly).
When oil is hot, gently add the fish (a few pieces at a time—don't crowd the pot) and fry until golden brown, about 3 or 4 minutes.
Let drain on paper towels and serve with lemon wedges or your preferred sauce.
Relax and refresh yourself with a Quality RV Resorts vacation. Premium amenities like swimming pools and fishing lakes are available at most locations. All feature kind and courteous service that will make you feel right at home.
Choose a great fishing destination, then Click the Resort to Book Your Stay. Do It Today!