From its earliest beginnings on the soil-covered sand dunes of 15th century Scotland, golf has spread all over the world, including everywhere in Texas. Luckily for visitors to the many destinations of Quality RV Resorts, our weather makes golf in Texas an enjoyable activity all year long.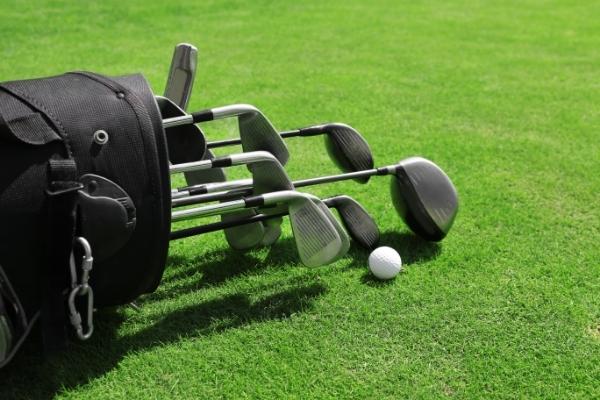 Bring Your Clubs – Golf in Texas!
According to Travel Magazine, Texas has over 900 golf courses, the 3rd highest in the United States – here are three that are easy to get to from your Quality RV Resort.
The Quarry Golf Course in San Antonio
Staying at Admiralty RV Resort or Greenlake RV Resort in San Antonio? The Quarry is the must-do course for anyone who wants to play golf in Texas. Located in a 100-year old rock quarry in historic Cementville, the 18-hole public course in the heart of San Antonio offers a natural wildlife habitat and one of the most unique golf experiences in the United States. Rental clubs for men and ladies are available. Join your party for breakfast, lunch, or happy hour at the restaurant. Pro shop, golf lessons, and tournaments throughout the year. Soft spikes only.
The Quarry is at 444 E Basse Road, San Antonio, Texas, 78209. Call for more info (210) 824-4500
Riverside Golf Course in Victoria
Guests at QRV Victoria, this is the golf course for you! Riverside Golf Course is an 18-hole 'Championship' municipal public golf course that features 6,579 yards of golf from the longest tees for a par of 72. It's fairly flat until you get to the contoured greens. The well-maintained fairways, water hazards, and tee-boxes make golf in Texas a real pleasure in Victoria.
Come play golf at Riverside, 302 McCright Drive, Victoria, TX 77901 or call (361) 573-4521 for more information.
Memorial Park Golf Course & Driving Range in Houston
"Home of the Houston Open"
For golfers visiting Houston, Baytown, Conroe, and Brazoria, including…
Allstar RV Resort
Bayou Oaks RV Park
Brazoria Lakes RV Resort
Brazoria RV Park
Eastlake RV Resort
Fallbrook RV Resort
Highway 6 RV Resort
Lakeview RV Resort
Mont Belvieu RV Resort
Northlake RV Resort
QRV Conroe
Southlake RV Resort
Westlake RV Resort…
This is a wonderful golf course for you! Memorial Park Golf Course is known as one of the best municipal courses in the nation and is visited by more than 60,000 patrons each year. It's fantastic!
This beautiful, well-maintained course in the middle of the city has a helpful and knowledgeable staff. Reasonable rates, two-story driving range, pro shop, and a Beck's Prime Restaurant on site make for a great day. When you want to play golf in Texas, you want to play at Memorial Park.
Come play at Memorial Park, 1001 E Memorial Loop Drive, Houston, TX 77007 or call (832) 968-7486 for more information.
Choose your ideal Texas destination and book your stay at the perfect Quality RV Resort for you. A warm welcome and deluxe amenities are waiting for you in every one of our 16 locations.