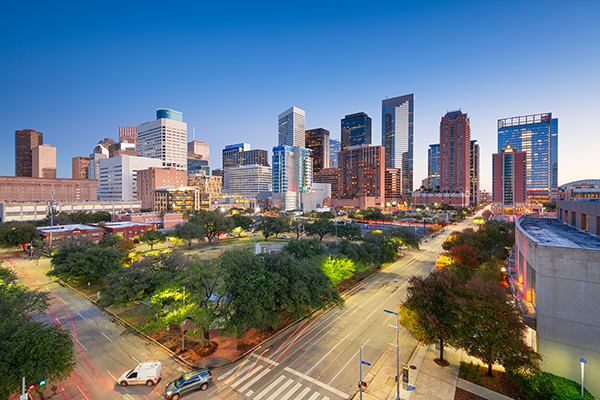 Houston
National Museum of Funeral History
Only in Houston can you find a coffin shaped like a Mercedes Benz and a 4,500 pound hearse that is eight feet high and 19 feet long. Founded in 1992 to educate the public and preserve the rich heritage of the funeral industry, the museum features exhibitions ranging from a 1900s casket factory to embalming during battle in the Civil War. As the museum likes to point out, "Every day above ground is a good day."
Visit the NMFH at 415 Barren Springs Drive, Houston TX 77090. The museum is open every day. Tours are offered Monday through Friday 10 am -2:30 pm. Tours last one hour and cover most of the artifacts in the museum, as well as little known facts about funeral heritage. Need more info? Call the Museum at (281) 876-3063.
Victoria
Giant Easter Island Head – Here's a real hidden gem and it's in plain sight. You can find Moai (giant Easter Island heads) in two places in the whole world. Easter Island and at a traffic intersection across from the city golf course in Victoria. The head was created by A.T. Dincans Jr. in 1997. Other than that, nobody knows anything about it or why it's at that intersection. Go there and take a selfie with the Giant Head at 291 McCright Drive. Get your camera out so the folks back home will believe you!
San Antonio
Bracken Cave – The largest known bat maternity colony in the world is on private property in nearby Gardenridge and is managed by Bat Conservation International. You must have a reservation to visit this hidden gem. Once you have made a reservation, you will be amazed by the sight of millions of bat mothers and their pups, packed as many as 400 babies per square foot!
Each bat baby-mama gives birth in June to one pup and leaves every night to hunt. Somehow, she can find her own baby out of the hundreds roosting there. By late July, the young bats are ready to join their mothers on the nightly hunt for insects. To secure your visit to the Bracken Cave Bat Colony, email bracken@batcon.org or call Bat Conservation International at +1 (512) 327 9721.
Every Quality RV Resort is Near a Hidden Gem in Texas
You'll find friendly folks, excellent amenities, comfort, convenience, and a great place to work or play – whether it's for a night, an extended stay, or a lifetime at every Quality RV Resort.
All Quality RV Resorts offer private gated properties, free WiFi, exceptionally clean facilities, concrete-paved sites with full hook-ups, shade trees, and proximity to exciting attractions. Choose your favorite destination and reserve your stay at any Quality RV Resort.
The Adventure Of A Lifetime Awaits When You Book Your Stay At One Of The Many Destinations Of Quality RV Resort!