Texas is rightfully famous for its hot, hot, hot summers, but do you know that Texas has some of the biggest and best ice skating rinks anywhere? It's true! Ice skating in Texas is lots of fun!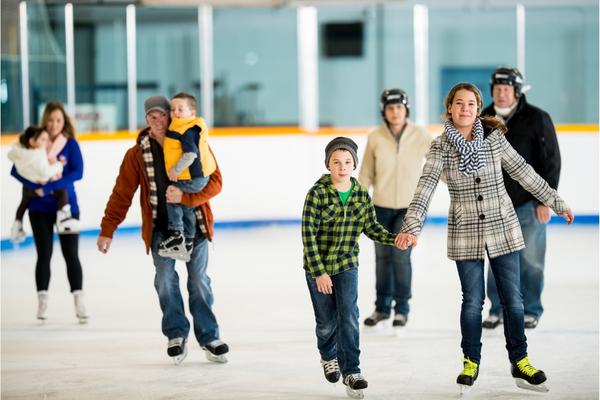 Ice Skating in San Antonio
Ice and Golf Center at Northwoods
Public skating every day
17530 Henderson Pass in San Antonio
Spin, slide, and glide on 17,000 square feet of ice. Lace up your blades for an entertainment experience only found in an ice arena. Reserve the rink to accommodate your next party, tournament, or game. The Ice and Golf Center offers skating lessons, skate rental, ice hockey skating, and lots more. Grab a bite at the concession stand, visit the Pro Shop, and play indoor soccer or mini-golf. For more info about ice skating in Texas, call them at (210) 490-9550.
Roller Skating in Victoria
Skateworld
Public skating Friday, Saturday, and Sunday
108 Monterrey in Victoria
Roller skating is just as much fun as ice skating in Texas. Great for birthday parties! Enjoy roller skating at Skateworld with your friends and take advantage of the snack bar. Admission includes the facility fee and free traditional roller skate rental. Want to skate faster? Work out on Monday and Wednesday nights with Rolling Thunder, Victoria's only inline speed skating team. Call Skateworld at (361) 578-9725 for more information.
Ice Skating in Houston
Ice at the Galleria
Public Skating Every Day
5015 Westheimer Rd Suite #1260 in Houston
Ice at the Galleria is a stunning year round indoor ice rink located at the Houston Galleria in the Center Food Court. Call Ice at (713) 621-1500 for the schedule and more information.
Public Ice Skating (includes skate rental)
Learn to Skate Classes
Broomball
Group Events
Birthday Parties, Camps and More!
Looking for a fun activity? Nothing is more fun than ice skating in Texas! Grab your friends and family and hit the ice!
Quality RV Resorts – Your Home Base for Ice Skating in Texas
You'll find friendly folks, excellent amenities, comfort, convenience, and a great place to work or play – whether it's for a night or a long-term stay at every Quality RV Resort in Texas.
Happy New Year from Quality RV Resorts!