Here at Quality RV Resorts, we know you love to travel on America's picturesque highways and roads, and when you arrive at one of our renowned resorts you want to relax and unwind. But the cities that host our resorts are filled with things to do!
At the top of the list are some of America's most famous museums, especially in our 4 Texas cities – Houston, San Antonio, Victoria and Brazoria.
Let's take a look at some of our favorites when it comes to museums in The Lone Star State.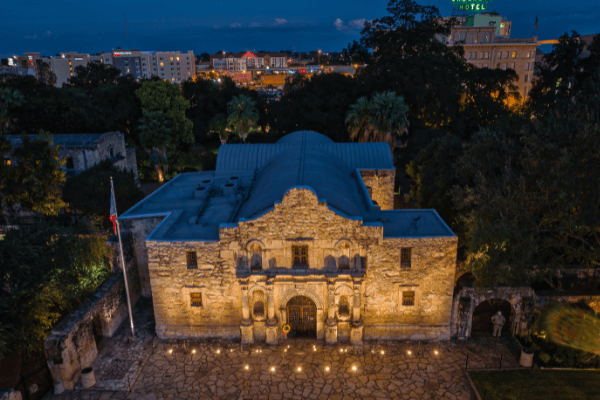 Houston
Space Center Houston
Over 1.25 million people a year visit the Space Center Houston to witness and educate themselves about America's space history, previous NASA missions and the future of space travel. More Info >
The Museum of Fine Arts, Houston
MFAH has a huge range of collections of permanent works some highlights being Latin American art and modern American painting and sculptures. The museum houses over 70,000 pieces of art to explore from all over the globe. More Info >
Contemporary Arts Museum, Houston
Visitors to CAMH can expect a sprawling range of modern and contemporary art installations embracing a variety of media to really challenge our perceptions of creativity and interpretation. Admission is free. More Info >
San Antonio
The Alamo
A jewel in the crown of Texan history, The Alamo is an important historic site for any American. See its historic buildings, relics and artifacts and serene gardens. More Info >
San Antonio Museum of Art
SAMA is massive building that has art from all over the world some dating as far back as 5,000 years ago. It is particularly famous for its Ancient Greek, Roman and Egypt collections and the Nelson T Rockefeller Latin American Wing. More Info >
The Buckhorn Saloon & Museum
Visitors to The Buckhorn get 2 museums for the price of 1 admission. See what the Old West was really like in Texas, from both sides of the law! More Info >
Victoria
The Nave Museum
This fine arts museum tends to have smaller rotating collections (4-6 annually) from artists in the Crossroads area. Admission is only an encouraged donation. More Info >
Museum of the Coastal Bend
The permanent collection here has displays dating as far back as 13,000 years ago from the Texas area. The first inhabitants of the Coastal Bend area are the primary focus of this museum, but collections go all the way up to modern Texan influenced art also. More Info >
Brazoria
Brazoria County Historical Museum
As the title suggests, this museum focuses on Brazoria County's history and is located in the historic county courthouse that was constructed in 1897. More Info >
Brazoria Heritage Foundation
The Brazoria Heritage Foundation preserves the monuments and buildings of notable historic significance of Brazoria's rich past. Cultural events and productions here are all celebrations of Brazorian history. More Info >
Explore Quality RV Resort destinations and see great Texas art museums!