Strawberry Season in Texas
Festivals, farmers' markets, and pick-your-own berry patches make strawberry season in Texas a sweet delight. Choose your favorite destination and reserve your stay – Quality RV Resorts and Parks has 16 great locations to serve you. Then step outside to find sweet, ripe strawberries to liven up your campsite meals. Come see us real soon – strawberry season in Texas doesn't last forever!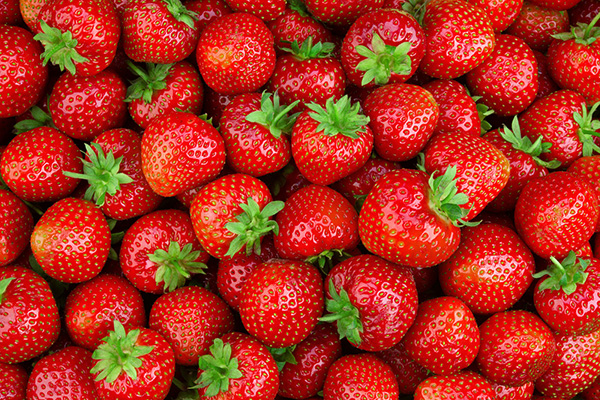 Pick Your Own Strawberries in Poteet
Just about 30 miles north of San Antonio, the tiny town of Poteet is the birthplace of country music legend George Strait and the strawberry capital of Texas with dozens of strawberry growers to choose from. Here's a tip for guests at Admiralty RV Resort and Greenlake RV Resort in San Antonio…
Kosub Farms at 3425 Coble Road in Poteet has been in the pick-your-own berries business for over 150 years! Bring the kids and let them pick berries. Kosub Farms has a children's' play area and picnic tables too. Kosub Farms is open every weekend through May during strawberry season in Texas. Need more info? Call them at (210) 385-7302.
Visit the Farmers' Market in Victoria
Every city and state has its own farm markets and Victoria has one too! Guests at QRV Victoria can treat themselves to fresh berries, strawberry jams, and homemade strawberry muffins when they visit the Victoria Farmers' Market at 2805 N. Navarro. The Market sells only home grown, homemade, or handmade items and produce from vendors within a 100 mile radius. It's all local and fresh! The Victoria Farmers' Market is open 9am – 1pm every Saturday at the Pattie Dodson Center.
Pasadena Strawberry Festival
For 50 years, nearby Pasadena has enticed local folks to the Strawberry Festival held annually in May. Guests at the many Quality RV Resorts and Parks in the Houston area are just a quick trip away from Pasadena – it's a suburb of Houston. Go to the Festival and enjoy a piece of the world's largest strawberry shortcake, live entertainment, lots of food booths, Kids' Zone, two midways with carnival rides, beauty pageant, parade, mutton bustin', and oodles of fresh sweet strawberries. The Pasadena Strawberry Festival offers four days of big fun and strawberries at the Pasadena Fairgrounds, 7902 Fairmont Parkway in Pasadena. This year's festival is May 18 – 21, 2023. Come to the Festival – It's a great way to say farewell until next year to the strawberry season in Texas.
Every Quality RV Resort is Near Strawberries
You'll find friendly folks, excellent amenities, comfort, convenience, and a great place to work or play – whether it's for a night, an extended stay, or a lifetime at every Quality RV Resort.
All Quality RV Resorts offer private gated properties, free WiFi, exceptionally clean facilities, concrete-paved sites with full hook-ups, shade trees, and much more. When you choose your favorite destination and reserve your stay at any Quality RV Resort during strawberry season in Texas, you'll have all the benefits of luscious, locally-grown berries too.
Book Your Stay At One Of The Many Quality RV Resort Locations!