If you are old enough to remember when public and private swimming pools weren't nearly as widespread as they are today, you are old enough to remember the swimming hole – any natural stream, lake, or river with cool water flowing directly out of the ground… and just perfect for a refreshing dip on a hot day. Those swimming holes are right where they always were. So pack your swimsuit when you pack up the RV because there's a swimming hole near your Quality RV Resort or park.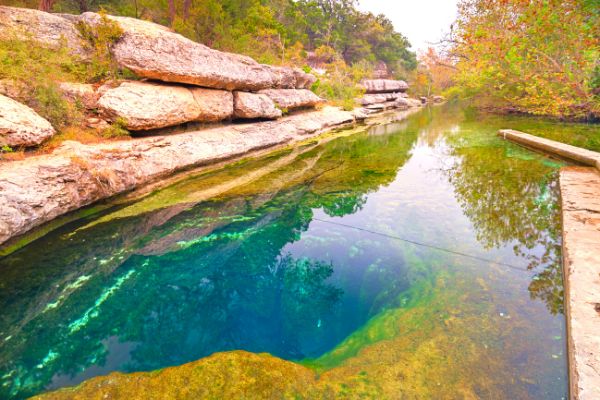 Swimming Holes in San Antonio
San Pedro Springs Park – People have gathered around the clear waters of San Pedro Springs for at least 12,000 years. The Park is the oldest in San Antonio and the second oldest in the country. Swim the old-fashioned way – in a natural spring surrounded by ancient trees. Visit the park at 2200 N Flores in San Antonio.
Jacob's Well in Nearby Wimberley – Once a meeting place for Native Americans and early settlers, the mouth of the well is four meters in diameter and gushes thousands of gallons of clear water per minute to feed Wimberley's Cypress Creek. You need an online reservation to swim at Jacob's Well.
Fishing Hole in Victoria
Victoria Paddling Trail – A fishing hole for you, it's a swimming hole for the fish! Meandering along the Guadalupe River, four distinct paddling trails are bordered by the scenic banks and limestone bluffs. Several points of river access within Riverside Park at 532 McCright Drive in Victoria.
Swimming Holes in Houston
Lake Longhorn – just 35 minutes from downtown Houston, the lake is a privately-managed triathlon training facility. You can swim, kayak, and paddle board here. Lake entry is $15 per person. Visit Lake Longhorn at 2391 Gun Range Road in League City, Texas.
Lake Houston Wilderness Park – The shallow waters of Peach Tree Creek make a splashing hole for little kids and a wading hole for grownups. Visit Lake Houston Wilderness Park in nearby New Caney. It's only 35 minutes away.
Swimming at Quality RV Resorts
No need to drive to a swimming hole when you choose your destination and Reserve your stay at any pet-friendly quality rv resort in texas.  Most Quality RV properties have swimming pools or fishing lakes. All are conveniently-located, family-friendly, loaded with top-notch amenities, and staffed by courteous, helpful people. Come see us!