Do you know that Texas has a State Butterfly? It's the Monarch and it's as beautiful and memorable as a Texas sunset. Vast clouds of these amazing small creatures fill our skies on their annual April migration north from the mountains of Mexico all the way to Canada and back again in August.
It is not one butterfly that completes the entire journey, but a series of generations born along the migration path. The complete journey exceeds the 2-6 week lifespan of individual monarch butterflies. How do they do it? No one knows! That's the mystery of nature.
You don't have to wait for the annual migrations to be enchanted by butterflies. You can see Monarchs and many other rare and colorful butterflies fluttering right up to you at the Cockrell Butterfly Center in the Houston Museum of Natural Science.
Visit the butterflies in their own jungle room, complete with plants, waterfalls, iguanas, and flowers. A wonderful experience for both children and adults. And super close to all the Quality Resorts in Houston, Baytown, and Brazoria.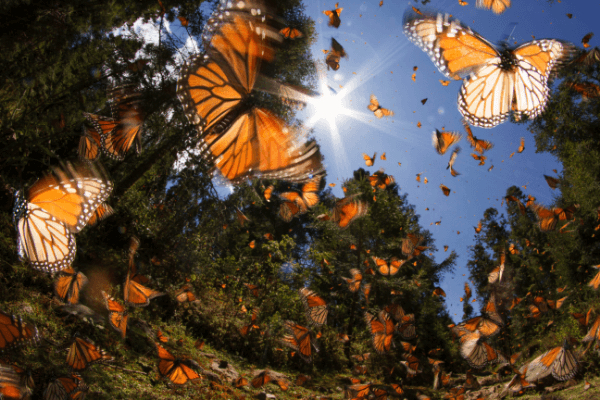 Texas Butter at Lucky Layla Farms
While we're thinking about butterflies, let's talk about…Butter!
Roaming free on 1,180 acres of grassland and floating on their tippy-toes in the three cooling lakes, cows never had it so good as the Guernseys and Jerseys of Lucky Layla Farms. Their comfort means higher quality and quantity milk, which becomes prized drinkable yogurt, butter, caramel and cheese at the hands of third-generation Plano, TX dairy farmer Todd Moore.
Because Guernsey and Jersey milk is especially high in butterfat, it must be skimmed for yogurt making. Mr Moore takes the rich cream surplus and churns it into butter. One look at his Texas golden butter and you can see that the cows are pasture-fed. The beta carotene from green grass gives it a deep yellow hue. Cultured and lightly salted, it has the flavor and richness of butter from a different era.
Sounds delish, huh? You could drive the 3+ hours to tour Lucky Layla Farms in Garland, Texas or you could purchase their incredible Texas-made butter at Houston Dairymaids, right here in Houston at 2201 Airline Drive. In fact, Fallbrook and Northlake RV Resorts are real close to Houston Dairymaids. Fallbrook is 12 miles away and Northlake is only 19 miles. So, hop in the car and go!
Your RV kitchen might be small, but it's big enough to make a wonderful Halloween, Thanksgiving, or Christmas gift of bourbon-infused butter…
Bourbon and Vanilla Bean Butter
1 cup Lucky Layla butter, at room temperature
1 vanilla pod, beans scraped out
2 tablespoons bourbon
Directions
Add ingredients to butter and whip to combine using a hand mixer. Transfer to an 8 ounce jar.
Keep refrigerated for one month or frozen for 3 months.
Buttered Texas Toast
Texas is probably the only state with its own toast. You can buy Texas toast bread at any grocery store. Then come back to your RV, spread that Bourbon & Vanilla Bean Butter on both sides of the bread, and broil or grill it until it's golden brown.
Choose Your Quality RV Resorts Destination Today and Reserve Your Stay for Family Fun with Butter and Butterflies. Unique and Unusual…You'll Love It!