Your Lucky Number is 6 – As in Highway 6 RV Resort
Looking for a safe, secure, friendly place to call home? You'll love Highway 6 RV Resort in West Houston. It's the pet-friendly, gated, secure, full-service community you have been looking for. Overnight guests and long-term residents agree, Highway 6 RV resort is a wonderful place to stay.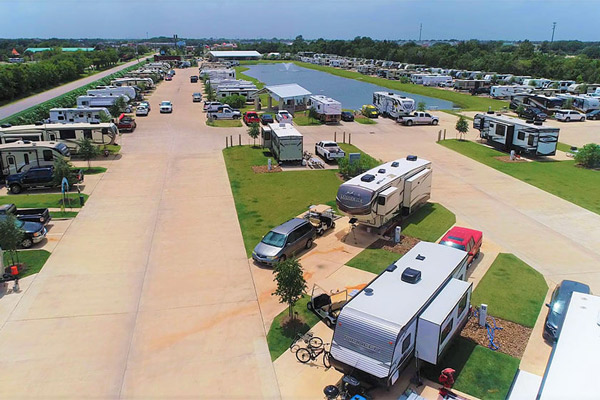 Facebook folks say…
Loree M says –
"Fun to watch birds, ducks, turtles and fish in the lake. We stay here for at least a month to two months a year."
David & Cindy H say –
"Our manager friends and staff were more than polite. Fresh coffee in the morning, very clean bathrooms and property. Close to all amenities. What else could you ask for? We wouldn't stay anywhere else."
Linda R says –
"We live here full time and just love it! Quiet, easygoing, peaceful, clean amenities, and great staff! There is a lot of beautiful waterfowl around the lake and a newly stocked lake. It is Zen life."
Jeff D says –
"While staying in the Houston area recently my wife and I found Highway 6 RV Resort to be a well-run park; clean and quiet with a friendly professional staff. The park has many "extras" some parks don't provide; outdoor grilling areas, dog runs, dog bathing station, pool, pond, workout room, exceptionally clean bathrooms, a laundry area much nicer than any we've been to before and nearby trails."
T Smith says –
"Wonderful place to stay. Amenities and staff are top shelf. Pet friendly, (with a dog wash), wonderful pool /hot tub. Great outdoor cooking, with refrig. Game room, exercise room. Showers. The Business center even has a printer if you need one. Management are helpful and friendly. Golf Carts available to rent, even storage to rent. Well maintained, read a book and watch the fountain. Relaxing!"
What Will You Say?
You'll join all those other folks and say, "Aaaahhh" when you plunge into our crystal clear swimming pool and Jacuzzi, relax on the banks of our great big fishing lake, and give your furry friend a bath in the dog wash station at the dog park.
What else can you find at Highway 6 RV Resort?
FREE WiFi
FREE Cable TV
FREE computer room with high-speed internet
Sparkling clean showers & restrooms
Coffee bar
Exercise equipment
FREE Air station
Full hook-up RV sites with concrete pads
Fully-furnished park model cottages
Laundry facilities
Outdoor fire pits
Outdoor kitchen facilities
Outdoor storage for rent
All of these great features, plus full-time 24/7 professional management staff to attend to your every need, starting at the low-low price of only $53 per night! Click to find the way you want to stay.
And if you should ever run out of things to do at Highway 6 RV Resort, you can take your bicycle to nearby Bray's Bayou in Houston and explore more than 121 miles of slow-moving river within the watershed.
Stay a Night or Stay Forever! Friendly, peaceful, and affordable, Highway 6 RV Resort welcomes YOU! Book Now!